Dear Daughter...
May 3, 1998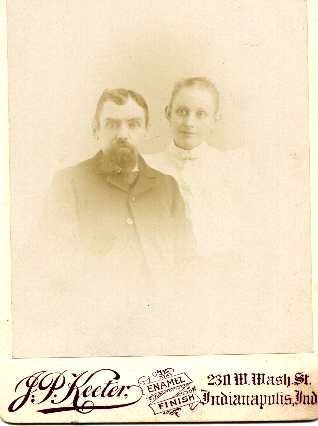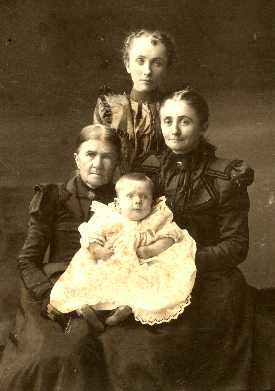 page 1
page 2 and 3
Indianapolis Ind
Mrs McQuoid
My Dear Daughter and son
We have sent you a presant
and we have not herd from
it yet am afraid that
you have not got it yet
Sent it in care of Milton
Foster, milton vanburen
County Iowa by the Adams
Express Co The box has 1 hand
towel 1 table cloth 1 machine
hamer 1 meat saw 1 set of
fruit plats 1 fruit Boal
and 1 Easter picture and the
charges is paid

and if you have not recived
it yet wright and tell
me se that I can hunt
it up. I am not very well
at presant. I am working
at night it is hard on me
for I dont sleep good in
daytime Evry is running
high here once the war
our shop is very buissy
it is running day and night
work from 70 to 85 hours
per week. So excuse
me for this time and
wright soon and let me know
about the box from yoor
Father
J.B. McGreevy to
Son and daughter Mr and Mrs
McQuoid.

Lillie this is Tuesday
morning my letter is not
gon yet I want to say
that we would like to
have you and husbands
photo taken in your wedding
dress I have just got
home from the shop I am
tiard and sleapy So good
by for this time wright
soon.

---
Mrs. Martha E. Harr.
Born in Ohio, November 24, 1826,
and Died in Salt Lake City,
August 11, 1902.

OBITUARY SKETCH.

Mrs. Martha E. Harr, a former resident of Harrisburg Twp., died at the home of her daughter in Salt Lake City, Utah, August 11, 1902.

She was born in Clearmont Co., Ohio November 24, 1826, and grew to womanhood there. Nov. 5, 1844, she was united in marriage with John B. McGreevy and to this union were born two children, Geo. M. and John B. Mr. McGreevy died in 1851. Mrs. McGreevy married Wm. H. Harr. Three children blessed this marriage. Mrs. J. L. Brown, Laura C. and Susie R. Harr.

The family moved to Van Buren Co. Iowa, in March, 1855, where they lived the remainder of their lives. Mr. Harr preceeding [sic] his wife to the better land in 1896.

Mrs. Harr united with the church in 1840, afterwards changing her membership to the Baptist church of Bonaparte and later to the Harrisburg church.

At the time of her death Mrs. Harr was 75 years, 8 months and 17 days of age. Her body was accompanied to Bonaparte by her son-in-law, J. L. Brown, and the funeral was held from the Baptist church in Bonaparte, September 11, 1902, Rev. W. M. Cooney of Kahoka assisted by Rev. Ayrault of this place having charge of the services, and interment was made in the White cemetery.

Mrs. Harr possessed a beautiful christian character, and she leaves to mourn their loss a great number of sorrowing friends who sympathize with her bereaved son and daughter, Mrs. J. L. Brown and John B. McGreevy.

Source: Entler Scrapbook, vol. 4, Iowa Historical Library, Iowa City, IA

I am NOT related and am posting this obit for those who may find this person in their family history.
---
Please feel free to link this page to any Civil War, history, or family history page.

[an error occurred while processing this directive]